THE LIST: Five rugby stars who made the switch to American football
So who are the chosen few? Here are five players who made the switch from Rugby Union to American Football at some point in their career.
---
1. Hayden Smith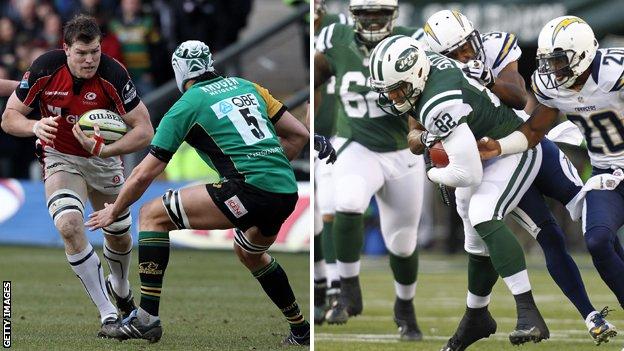 Hayden Smith left the school on the outskirts of Sydney in 2002 to take up a university place in the United States on a basketball scholarship.
But, with time to kill between the end of his studies and graduation, he started playing rugby union at a local club in Denver.
Just three years later, he was part of the Saracens side that won the Premiership title, before starting all four of the United States' matches at the 2011 Rugby World Cup.
The latest leg of his sporting journey has taken the 27-year-old to the New York Jets in the National Football League – less than a year after donning pads and a helmet for the first time.
---
2. Gavin Hastings
He was Scotland's granite-hard talisman for a decade, not only as the last line of defence but as a place kicker of unerring accuracy who often proved the difference between sides.
In 1996, Hasting joined the Scottish Claymores an American Football team in the NFL Europe. He played a single season as a placekickerscoring 24 of 27 conversions but missed his only attempt at a field goal.
---
3. David Dixon
David Tukatahi Dixon (born January 5, 1969) is a former American football guard who played eleven professional seasons in the National Football League and was the second Maori to play in professional football after Riki Ellison. He had played for New Zealand U19 before moving to America.
---
4. Jarryd Hayne
Hayne attracted significant attention when he made the switch from one of the NRL's top players to a rookie in the 2015 NFL season with the San Francisco 49ers. Before returning to the NRL, Hayne also represented Fiji in rugby union sevens.
---
5. Alex Gray
Former England Sevens player Alex Gray has became the first English rugby union professional to quit the sport to take up American Football in 2017, signing a one-year deal with the Atlanta Falcons.
MORE STORIES

: