Popular Welsh referee Nigel Owens has received a very special gift ahead of his 100th test this weekend.
The 49-year-old oversee France's Autumn Nations Cup clash with Italy on Saturday in his second outing of the newly-created tournament that replaced the traditional end of year tours which were scrapped due to the coronavirus pandemic.
His first outing was England's 40-0 win over Georgia on November 14, 17 years after he refereed his first Test.
During his career the Acme Thunderer has always been his whistle of choice, so Prime Video Sport teamed up with Acme Whistles to create a special memento for the history maker.
"A massive thanks to @primevideosport for these special edition @AcmeW for my match on Saturday @FranceRugby v @Federugby." wrote Owens on Twitter.
"I'll try not to blow it too much. Diolch o galon (many thanks), it's very much appreciated and means a lot ."
To find out more about whistles for referees or coaching, visit www.acmewhistles.co.uk.
Here's who takes charge this weekend
Wales v England
Venue: Park y Scarlets
Saturday, 28 November, 2020. Kick-off at 4pm.
Referee: Romain Poite (France)
Assistant Referee one: Pascal Gauzere (France)
Assistant Referee two: Alex Ruiz (France)
TMO: Brian MacNeice (Ireland)
---
France v Italy
Saturday, 28 November, 2020. Kick-off at 9pm.
Referee: Nigel Owens (Wales)
Assistant Referee 1: Matthew Carley (England)
Assistant Referee 2: Mike Adamson (Scotland)
TMO: Sam Grove-White (Scotland)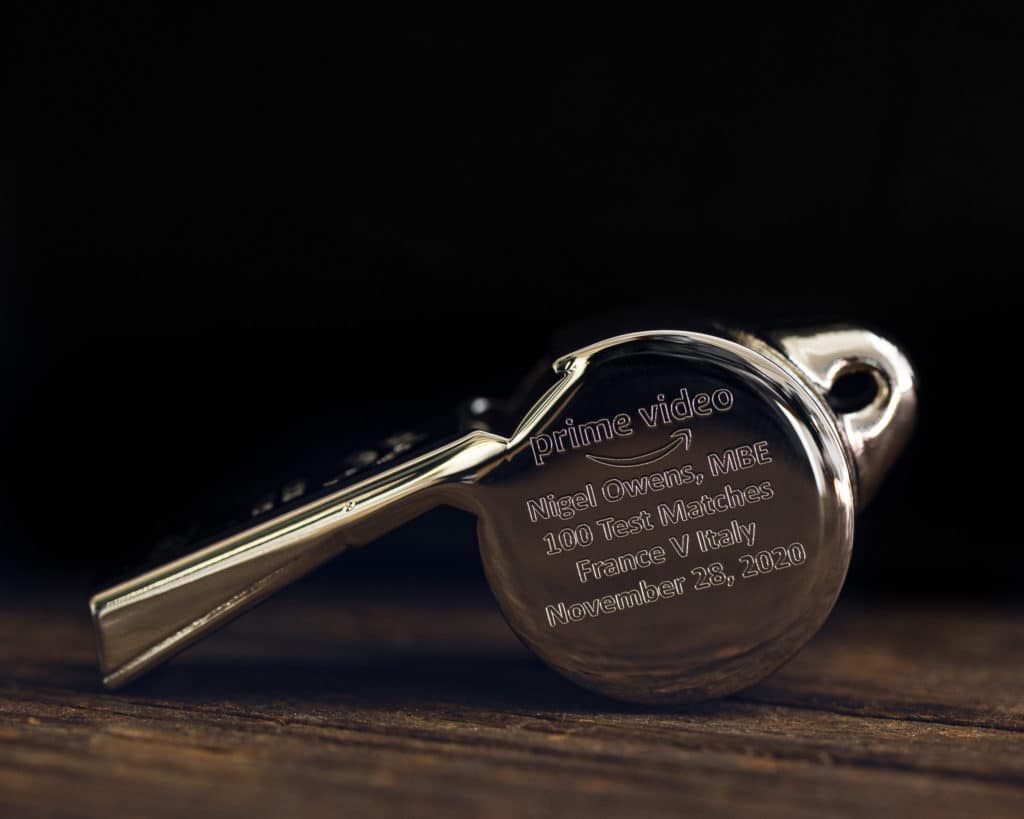 ---
Ireland v Georgia
Aviva Stadium, Dublin.
Sunday, 29 November, 2020. Kick-off at 2pm
Referee: Mathieu Raynal (France)
Assistant Referee 1: Luke Pearce (England)
Assistant Referee 2: Andrea Piardi (Italy)
TMO: Marius Mitrea (Italy)
One Englishman features In Nigel Owens' Dream XV Of Players He's Refereed
15. Israel Folau (Australia) – This pick didn't age well.
I go for Folau – only just, I should stress – because of his ability to seemingly beat his man every time he gets the ball in his hand. He's such an exciting player and like Leigh Halfpenny he is one of the best under the high ball.
---
14. Stuart Hogg (Scotland)
How can you fail to be impressed when watching Hogg play. He's so exciting as he burst into that line and, of course, was named Six Nations player of the tournament.
---
13. Brian O'Driscoll (Ireland)
Not only is he one of the greatest centres in the history of rugby union but he's a fantastic man off the field as well. O'Driscoll has been a wonderful ambassador for the sport and a real leader.
---
12. Ma'a Nonu (New Zealand)
He's another brilliant player and after every game, win or lose, he would come up and give me a hug. Ma'a has always found time at after-match functions or at breakfast if we've been staying at the same hotel to come over and have a chat.
---
11. Shane Williams (Wales)
He was in the mould of Gerald Davies in how he left defenders gasping for air as he beat them with those dazzling sidesteps. Nobody would fancy defending against a back three of Shane, Hogg and Folau, I can tell you that.
---