As one of the world's leading match officials, Luke Pearce has been selected as part of the line-up of referees to oversee the upcoming 6 Nations. But, what does a day in the life of a referee look like? We caught up with Luke to find out.
Like anything in sport, timings will differ depending on where and when the games are being played, so for this, we have chosen to use Luke's game overseeing the Ireland V France as an example.
Ahead of the game …
Before we get to the day itself, we've had our travel booked for a couple of weeks now, but in normal non COVID world we'd have travel booked months in advance. At the moment, we're booking much later as we don't know what's going to happen or where things will take place. Plans re more fluid, so we have shortened the lead in time for some of the logistical planning.
Friday: 2 days before the game
I'll leaving on Saturday morning from Heathrow across to Dublin, but I'll already be making sure that our team are prepping. Amongst other things this includes a WhatsApp group between the four of us where we'll put any relevant things like clips or interesting stuff that's going in the world of rugby. It's a way for us to bond as a team, but also share things we want to include in our plan and discuss in more detail ahead of the game.
To make sure we are in top condition for match day, I'll head up to Heathrow on the Friday night before the match. I usually put my daughter to bed and then head straight out. I'll stay overnight at a hotel there and rest up for the evening.
Saturday – the day before the game
9am: We'll meet as a team at 9:00 o'clock on Saturday morning at Heathrow. That first breakfast meeting is really the start of the weekend and it's a chance for us to connect personally before the match. Although we've all been tested for COVID we can't really do much when we arrive so its important we make the most of our time together.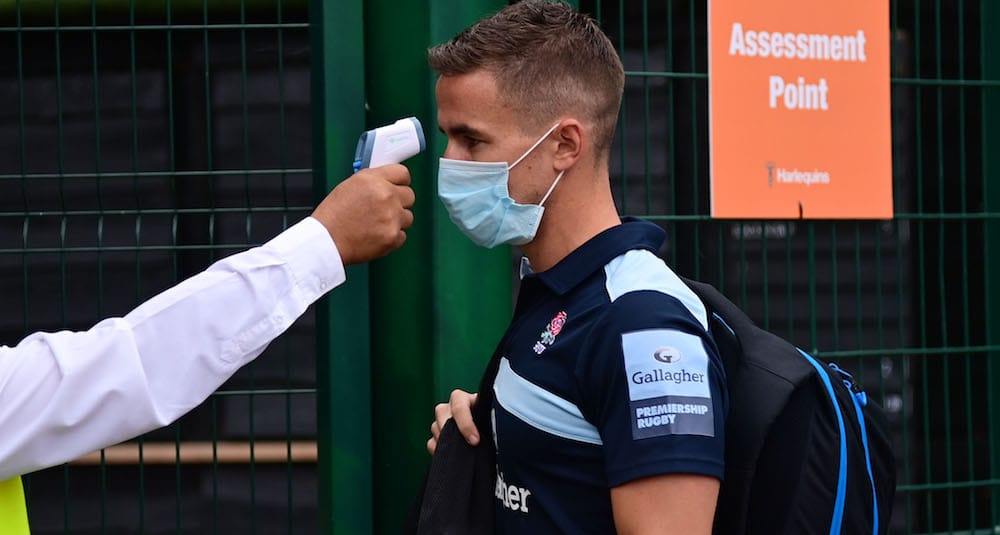 The great thing for the Ireland v France game is that it's four English refs so we all know each other inside out anyway. By the time we arrive on Saturday we'll be prepped for the game already, but it's a chance to discuss anything that happened the previous weekend, just getting that personal connection back again.
12 – 2pm: After the flight, we'll be Dublin by about midday on the Saturday. When we arrive, we're picked up at the airport by the home union and taken to the hotel. That's when the formalities really start.
I'll have a zoom call with the coaching staff, both the Irish and French, dependant when they're available. I prefer to do this once I'm there in Dublin.
I think it's really important that when we have that dialogue with the coaching staff a day or two before the game, that our whole team is involved. This is because during the big moments in the game we need the coaches to be absolutely aligned to our process and what we're going to do; but also, if the coaches have got anything that they want to bring to the table, we need to make sure that everyone on my team are aware of it, not just me.
2pm: We'll then grab some lunch together – we do as much of this as a team as we can. One thing we always like to do the day before a game is watch the other matches. When we're in Dublin we'll watch the Wales v Scotland game and the England v Italy game as a team. Nothing formal but just making sure that we're aware of any points that might arise from those games.
5pm: Saturday night at about 5:00 o'clock I'll sit down with my team and we'll talk through our game plan. Different refs do this in different ways from showing clips to PowerPoints. My personal preference is to use a PDF document which I've prepared the week leading up to the game. This will cover certain key goals for that match. I don't tend to include many, but two or three things that we want to focus on. We'll also come back those indicators straight after the game to make sure we've achieved them. This is also opportunity to talk through anything that the lads want to bring to the table, if there's anything they're concerned about, or any reservations they've had come into that match.
The evening
It's a very much relaxed night before the game. We'll have a bite to eat in the hotel, as we can't go out to eat anywhere at the moment, and then an early night.
Sunday morning, the day of the game
9am: By Sunday morning at breakfast all the official pre match formalities have been done from our end so after breakfast together as a team at 9am, we'll try and go for a walk. I know in Dublin where we stay there's a nice takeaway coffee places down the road so will try and get down there for 10:30 – 11:00am. It's a good chance to get out of the hotel and stretch our legs a little.
11am: At 11:00 we have to go and get our COVID certificate that will allow us to get into the grounds – a process we are all more than familiar with now. I'll then head back and double check my kit which will take us through to about 12:45 – 1pm.
In a normal world will we get a bus from the hotel in centre of Dublin, but in current circumstances, we are staying out near the stadium, so we can walk across as a team, which is really nice.
1:15pm: We will be in the changing room by 1:15pm for a three o'clock kick off. Once we're in, there are a couple of simple stadium formalities such as a safety debrief from the chief steward and the police, where they make you aware of any potential issues that they foresee for the day and their emergency strategy if anything happens.
We are then given the run sheet from the match manager, whom Six Nations employ, and that's got everything in terms of timings for the whole day including stud checks and front row briefs. All of this normally happens about an hour before and incorporates the coin toss as well.
2pm: By two o'clock everything is done, and we are left to our own devices. I will then start my warmup at about 2:15 for about 20 minutes, after which I'm back in the changing room by half 3:35.
3:40pm: Someone will come in to get us all rigged up with the external comms kit, and if we have a refcam, another person comes in to fit that as well. There's plenty of time for both.
We're all ready to go!
Before we go out, we have about 5 or 10 minutes to ourselves – a final moment to just enjoy the event as we wait to go out. For an international, we are out onto the pitch about 8-9 minutes before kick-off for the anthems, before the opening whistle.
THE GAME:
The next 40 mins is all about putting our plans into action, and all our focus is on the game from then on in.
HALF-TIME AND SECON-HALF:
At half time we get 15 minutes and it's important that we chat about what's happened in the previous half, but one thing that I reiterate to my team is that we don't discuss big decisions at this point. There's nothing we can do about them. The world will have their opinion, but what's really important, is that we don't deviate from our plan. We make sure everyone is happy and before you know it, we are back out for the second half.
After the game
Once the match is finished, that 30- 45 minutes when you're still in your kit in the changing room, with a couple of cold beers, is great. We relax with the team and chat about the game. I've found the most honest moments for review are in that period of time immediately after the final whistle. It's a natural opportunity for people to bring to the table things they're not quite sure about, so we always try and openly discuss those points before we leave the changing rooms.
I don't speak to my coach at half time because I'm a big believer in trying to keep phones away – and I think it can be a distraction, but I usually get a call from him within an hour of the final whistle to get a feel for how the game has gone. I don't ask for specifics because normally your heads fried after an 80-minute international, but I want to know top line, was it good, bad or ugly. When I leave the changing room its also useful to know the one or two big moments that we need to be aware of, to be honest that's more important pre Covid – when we go up to these formal meals afterwards before you meet the teams' coaches!
Normally we will put a suit on and go upstairs and there is a nice formal meal, but now in Covid world it's the tracksuit back on we'll go back to the hotel. We try not head off straight away, and the great thing about internationals is often we can't get home immediately after the match because of flight times and travel plans. We'll head back to the hotel and we have couple of drinks, a bite to eat and try to relax.
Tony Spredbury, our boss, is also usually in touch within a couple of hours the final whistle. It's a great chance to catch up after the game but is usually a quick call, as he also respects the importance of decompressing with the team. We'll talk at great length over the coming days during the debrief.
The next day
By 10 o'clock the next morning you are on the way home and back to the family. The formal review process with the wider team happens a few days after the game – this is where we do a full breakdown of our performance and go into the detail of the game.