By Craig Muncey
In some sports, certain skill attributes can cross over into other sports. There have been several rugby players (particularly in Wales), who in the summer have played Baseball to an international standard, with their hand, eye co-ordination being so attuned. Similarly, many decades ago, Leslie Compton played cricket for England, and he also played football for his country, and there have been other numerous examples.
With the sport of Rugby Union, clearly, there are a many skills required, one skill in particular typically associated with backs, is having the trait of being able to kick the ball accurately. Be it as part of an attacking play, or to kick to touch in defence, or the ability to keep the scoreboard ticking over. With the ability to kick goals, it requires a kicker to remain calm under all kinds of pressure, to deal with the crowd, the pressure of the game, to deal with the conditions etc. One such player who had all of those attributes was Paul Thorburn who played for Neath and Wales with great distinction.
Thorburn in 1986 while playing for Wales against Scotland in Cardiff kicked a penalty which has been measured at a distance of 64.2 metres. The kick did not just scrape over the posts it sailed over at some distance. In the commentary, the voice of rugby, Bill McLaren describes the moment beautifully. That kick raised his profile to another level, and another sport, where having the ability to be an accurate kicker with a booming boot were watching him intently. That sport was American Football, where fortunes can only be a throw, run, catch, tackle and even a kick away.
Los Angeles Rams were the team that was interested in looking into the prospect of Thorburn becoming a Gridiron star. Their owner, Georgia Frontiere was good friends with a man called John Rendall who had links to London Welsh, and somewhere along the way in conversation, Paul Thorburn's name came up, and Frontiere enquired about his availability. Rendall spoke to a legendary rugby player, Gerald Davies who had played for London Welsh amongst others previously and made him aware of the LA Rams interest in Thorburn.
In May and June of 1987, Thorburn starred for Wales in the inaugural Rugby World Cup in Australia and New Zealand. Wales finished third in the tournament with Thorburn starring kicking crucial kicks, including the match-winning conversion in the third and fourth place play-off against Australia, which again certainly would have cemented LA Rams thoughts on his kicking ability. By July 1987, Thorburn was relaxing at the Royal Welsh Show which is an annual agricultural show in Wales. Also, at the event was Gerald Davies and he used the opportunity to talk to Thorburn and to see if there was any curiosity from him over the playing American Football. Thorburn was curious to look into this further and investigate the option.
Negotiations quickly gathered pace. Thorburn was given permission by the Welsh Rugby Union to visit and try-out with the LA Rams. They were in London, in readiness for the American Bowl at Wembley Stadium against the Denver Broncos. The first training session had with his potential new team mates was at Crystal Palace. One of his very first field goal attempts resulted in Thorburn kicking the ball directly into the back of one of his team mates. The completely different process of having the ball snapped back for someone then to hold the ball while the kicker kicked the ball was a completely new experience to Thorburn and took some getting used to. Thorburn has commented that the ball used in the NFL was also a lot smaller than a rugby ball so that in itself took some getting used to as well. However, over time Thorburn felt more adjusted to this new game, and the rest of the session went well. LA Rams were talking about the potential of Thorburn going to America after the American Bowl completing pre-season to see if he could have an NFL career. At the time Thorburn was 25-years-of age, a change in sports did seem a reality.
EDITORS PICKS:
On August 9th 1987 in front of more than 75,000 spectators, Paul Thorburn was part of the LA Rams playing squad to take on the Denver Broncos. Rams had big NFL stars such as Jim Everett, Henry Ellard and running back sensation, Eric Dickerson. The Broncos had stars such as Mark Jackson, Ricky Nattiel and one of the biggest stars in the NFL at the time in the quarterback, John Elway and amongst those NFL stars was a man born in Rheindahlen, West Germany, a Welsh Rugby Union International!
As it turned out, Thorburn was only used just the once in the game. The Rams number 4, took a kick-off but in a very tight match, LA Rams kept with their first-teamers and made the decision this was not the time to test a rookie kicker. As it turned out the Rams did get the win by a scoreline of 28 points to 27. For Paul Thorburn the NFL journey was over, he returned to playing successfully for Neath and Wales in Rugby Union and captained his country on several occasions.
Thorburn himself has said he has no regrets over a career in NFL not occurring and that he just saw it as a bit of fun, not as a career change. Whether this is true or not you do have to wonder if Thorburn had fully immersed himself into American Football and if the game he played had a different scoreline. If he had more opportunities would we have seen Paul Thorburn the NFL kicker earning millions? I guess we will never know.
---
THE LIST: 6 other rugby stars who made the switch to American football
So who are the chosen few? Here are five players who made the switch from Rugby Union to American Football at some point in their career.
---
1. Hayden Smith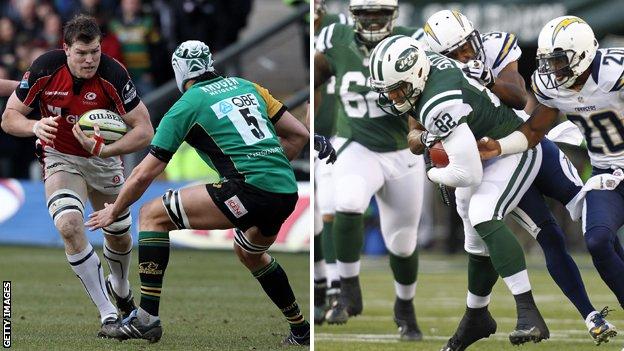 Hayden Smith left the school on the outskirts of Sydney in 2002 to take up a university place in the United States on a basketball scholarship.
But, with time to kill between the end of his studies and graduation, he started playing rugby union at a local club in Denver.
Just three years later, he was part of the Saracens side that won the Premiership title, before starting all four of the United States' matches at the 2011 Rugby World Cup.
The latest leg of his sporting journey has taken the 27-year-old to the New York Jets in the National Football League – less than a year after donning pads and a helmet for the first time.
CONTINUES ON PAGE TWO
---