Bath Rugby can today announce the signing of former Atlanta Falcons' Tight-End Alex Gray, who has spent the last three years within their practice squad, before deciding to return to Rugby Union.
The athletic 29-year-old joins up with the Blue, Black and White ahead of the 2020/21 season having already developed relationships with existing players and staff at the Club.
The wing has been brought in to add depth to an already talented group of players positioned on the wide channels at the Club and is expected to be an option at centre. Gray, standing at 6' 6 and weighing in at 113kg, will bring an exciting point of difference and has been carefully selected through a rigorous recruitment process.
Director of Rugby Stuart Hooper commented on the signing of winger Alex Gray and said: "Alex is a confident and very talented rugby player who brings in a lot of experience to the group. He is an adventurous individual that has done a lot of great things in this sport as well as striving to earn a career in the NFL in his most recent professional outing.
EDITORS PICKS:
"We have been keeping tabs on Alex for a long time now and when the opportunity arose to sign him, we couldn't pass on that. He will join up with a talented group of players with calibre for their attacking style of play.
"I am confident that he will fit seamlessly into the group here at Bath Rugby and we look forward to seeing how he develops his game."
---
THE LIST: The rugby stars who made the switch to American football
1. Hayden Smith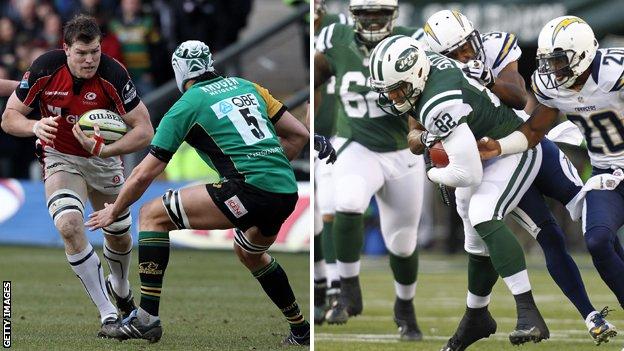 Hayden Smith left the school on the outskirts of Sydney in 2002 to take up a university place in the United States on a basketball scholarship.
But, with time to kill between the end of his studies and graduation, he started playing rugby union at a local club in Denver.
Just three years later, he was part of the Saracens side that won the Premiership title, before starting all four of the United States' matches at the 2011 Rugby World Cup.
The latest leg of his sporting journey has taken the 27-year-old to the New York Jets in the National Football League – less than a year after donning pads and a helmet for the first time.
CONTINUES ON PAGE TWO
---